The cryptocurrency market has flagged a little in the past 24 hours. At $2.49 trillion, its total cap is down by around 1%, after rallying the day before. Most major cryptocurrencies are down with it, including bitcoin (BTC), ethereum (ETH) and solana (SOL). However, for any traders hoping for a big bounce in the not-too distant future, one possible route may be meme coins. While such cryptocurrencies are generally highly volatile, this volatility often provides the opportunity for big gains. As such, we've put together a list of the 5 next meme coins to explode. This covers meme cryptocurrencies that present the potential for market-beating rallies.
5 Next Meme Coins to Explode
1. Shiba Inu (SHIB)
SHIB is down by 3% in the past 24 hours, dipping to $0.00003719. This represents a 21% decline in the past week, and a 35% fall in the last 30 days.
SHIB is also 56% down compared to the all-time high of $0.00008616 it set on October 28. However, this decline arguably puts the meme coin in a prime position for rebounding strongly once the market picks up. Its relative strength index (in purple above) is hovering just above 50, suggesting that it's close to rising again. Likewise, its 30-day moving average (in red) has recently risen above its 200-day average in blue. This may suggest the possibility of a new breakout.
SHIB boasts the advantage of being, along with dogecoin (DOGE), the biggest meme coin in the market. What this means is that it has a community of holders and supporters, who may be ready to pump the coin at a moment's notice.
For example, its Reddit page now counts around 447,000 subscribers, up from 200,000 in early August.
On top of this, it continues to benefit from positive endorsements and items of news. Most notably, retailer Newegg announced at the end of November that it would be accepting payment in SHIB from early December onwards.
Hey #ShibArmy, how we looking on America's largest digital out-of-home billboard? @ShytoshiKusama #Shib

We'll be officially accepting @Shibtoken in by early December via @BitPay https://t.co/MR2ydiQpq6 pic.twitter.com/MyuxHSIjVw

— Newegg (@Newegg) November 30, 2021
Newegg still hasn't rolled out SHIB payments yet. But when it does, expect SHIB to rally. This is why it's one of our 5 next meme coins to explode.
2. Dogecoin (DOGE)
DOGE is down by 0.4% in the past 24 hours, at $0.180028. This price is a 16% drop compared to seven days ago, and a 32.5% drop compared to last month.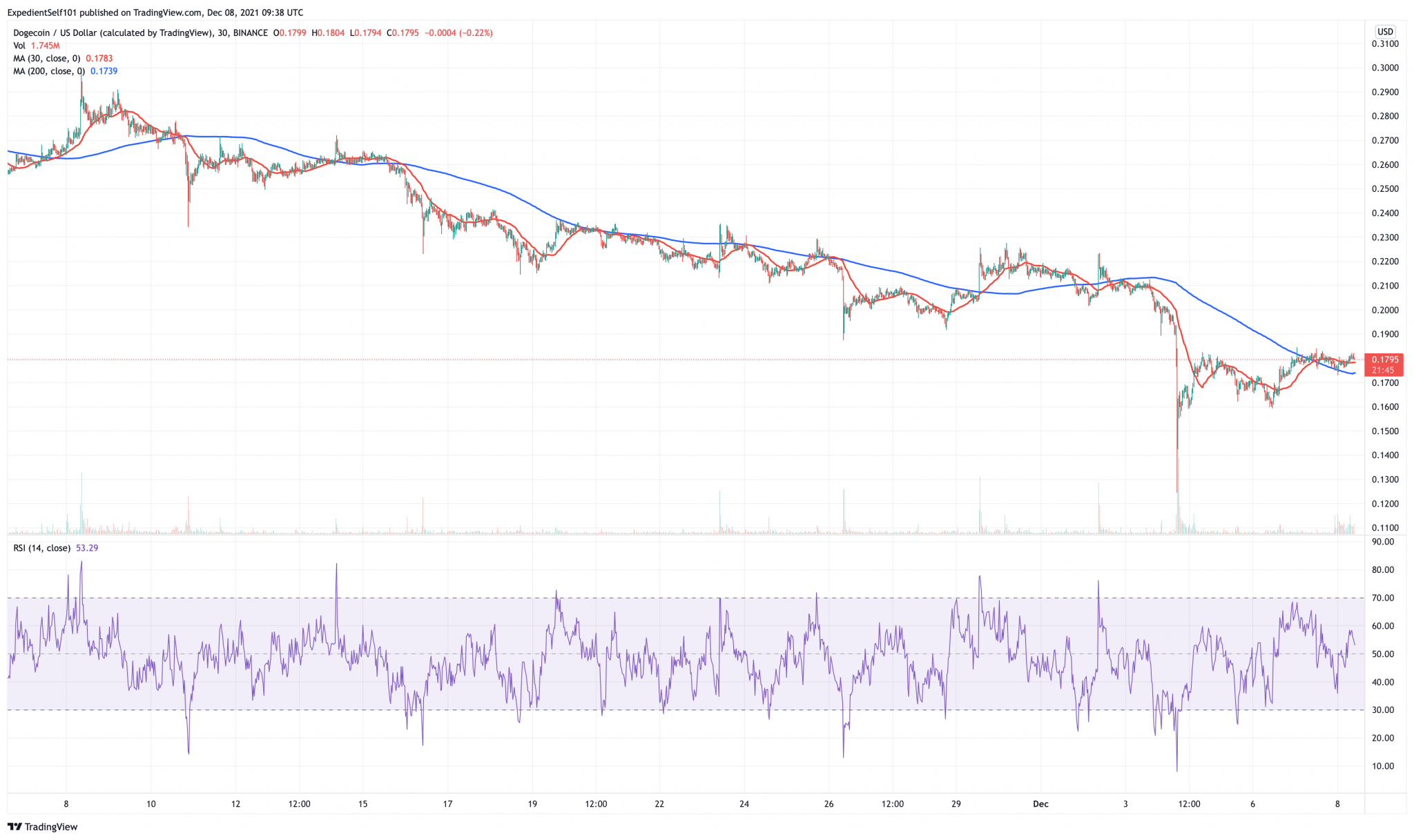 DOGE's indicators are much like SHIB's. Its RSI sits at just below 55, while its 30-day average has recently crept above its 200-day. This may indicate a forthcoming rally, although with the wider market in such uncertainty at the moment, it's hard to be entirely confident.
Nonetheless, DOGE is another meme coin that continues to boast a significant community. Its Reddit page has 2.2 million subscribers, up from 177,000 at the beginning of 2021. And it already has Newegg accepting it as payment, with the retailer doing so since April.
And as with SHIB, it also benefits from endorsements and promotions. This one from Binance's CZ is one of the most recent and prominent.
I'm giving away a DOGE Tesla & $50,000 in $DOGE. Which do you want?

To enter:
🔸Retweet
🔸Follow @elonmusk, @binance, @cz_binance
🔸Have a KYC'd Binance account
🔸Tweet the prize you want & why with hashtags #DOGEorTesla & #Binance

Our favorite answer from each 'team' will win. pic.twitter.com/A2VLB6fh4a

— CZ 🔶 Binance (@cz_binance) November 29, 2021
3. CumRocket (CUMMIES)
CUMMIES is up by 15% according to CoinMarketCap, at $0.02312. However, this represents a 17% fall over the past seven days, and a 59% drop in the past month.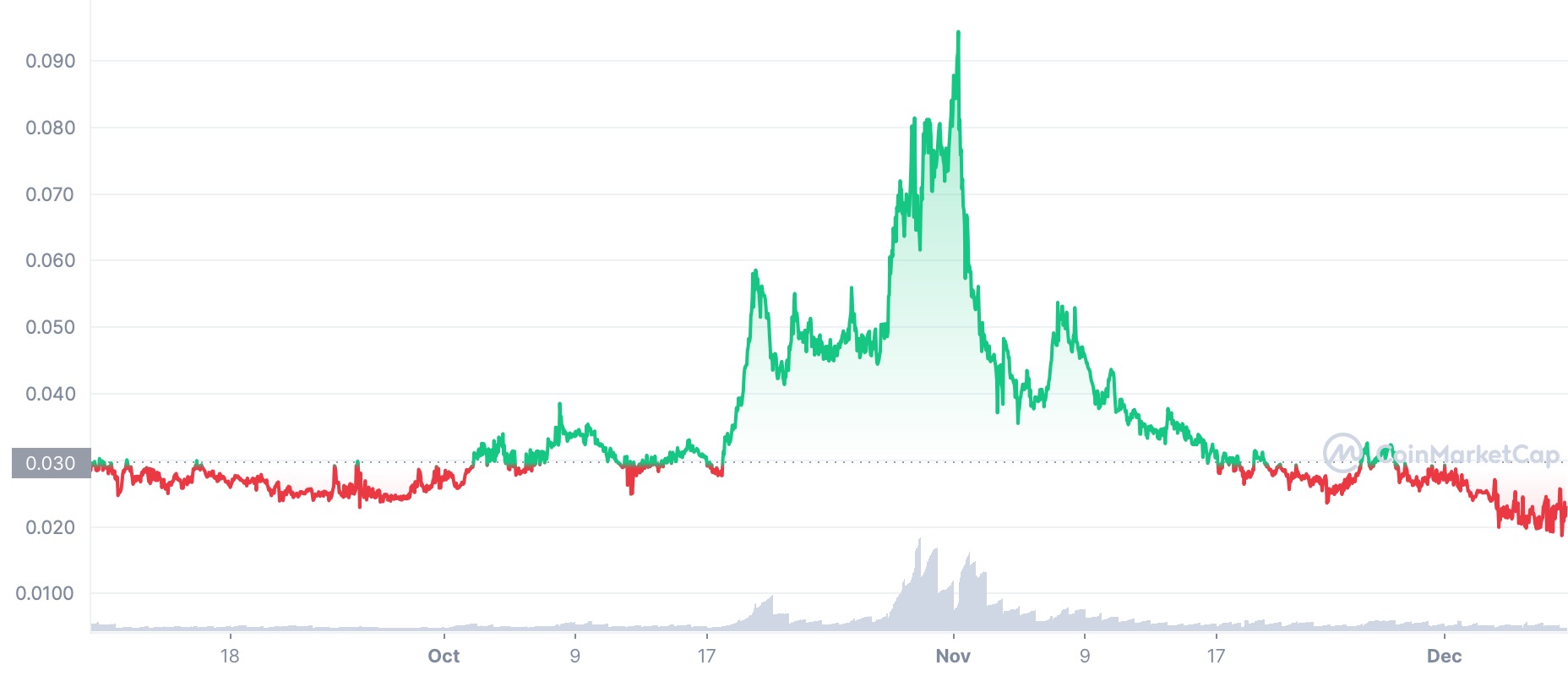 CUMMIES' chart reveals that it has oscillated up and down consistently over the past few months. These rises and falls have occurred over a fairly short time frame, so while there are gains to be made, buys need to be judged carefully.
That said, the cryptocurrency may have good longer term prospects. Hosted on the Binance Smart Chain, its native CumRocket platform lets users pay for adult content using CUMMIES or non-fungible tokens. This could prove a lucrative business in the future, especially if Web 2.0 sites such as OnlyFans fall out of favour or end up restricting their adult content (although OnlyFans U-turned on earlier plans to ban such content on its site).
4. Spell Token (SPELL)
At $0.01842711, SPELL is up by 9% in the past 24 hours. This means it has risen by 36% in the last seven days, and by 5.7% in the past fortnight. However, it's down by 34% in the past month.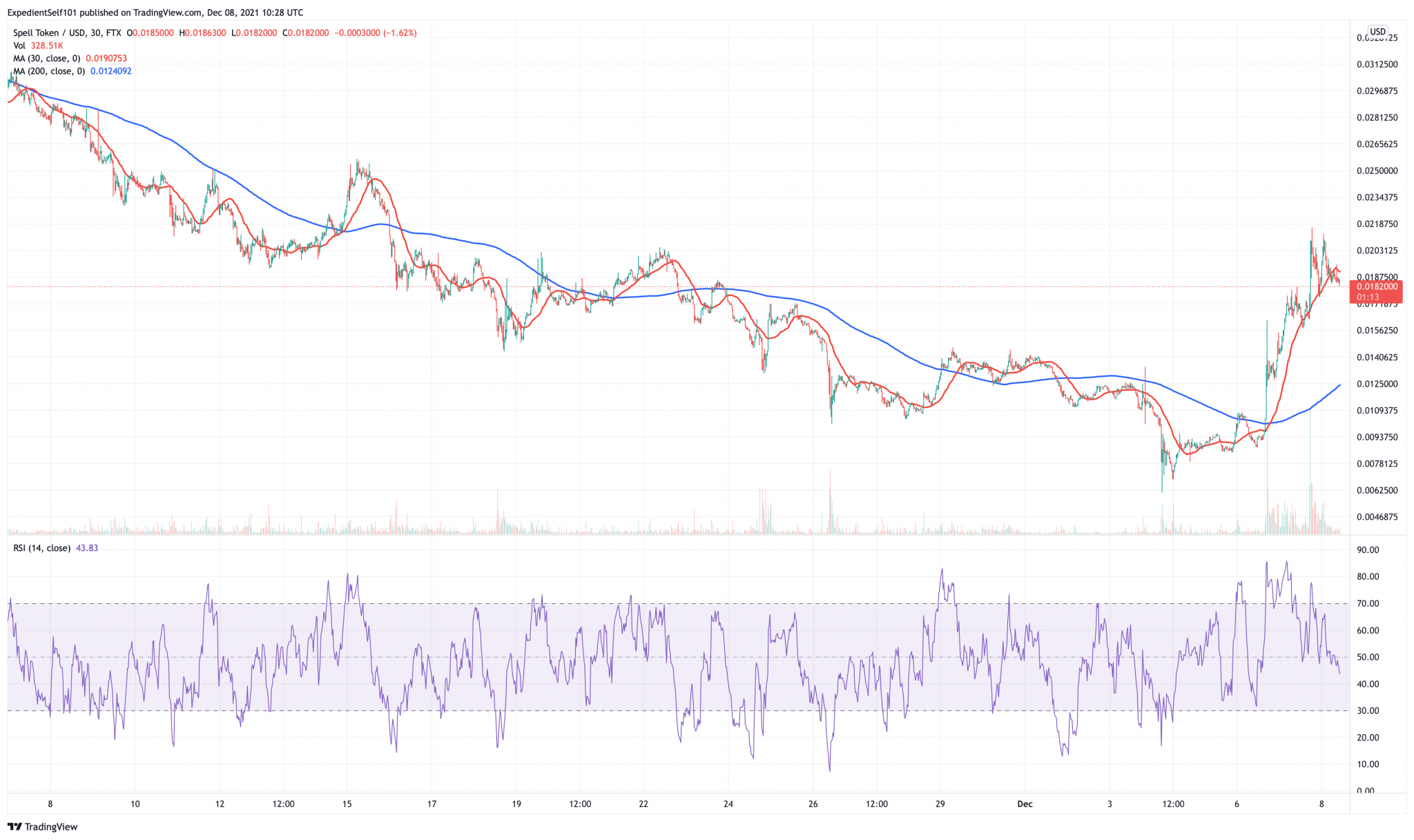 SPELL's indicators suggest it's a good time to buy. Its 30-day moving average reveals good momentum, yet its RSI also shows that it isn't overbought right now.
For those unfamiliar with the meme coin, it's the governance token for the Ethereum-based Abracadabra.money DeFi platform. Users of this platform coin stake collateral in order to mint magic internet money (MIM), a stablecoin pegged to the US dollar. Staking SPELL itself allows users to mint eSpell, which provides governance rights and other rewards.
Basically, SPELL is a meme coin only in the sense of its name that of its 'magic-themed' native platform. The latter currently boasts a total value locked in of $4.9 billion, up from $1.1 billion at the start of October.
This growth suggests that SPELL could continue to rise in the near future. This is why it's one of our 5 next meme coins to explode.
5. Baby Doge Coin (BABYDOGE)
BABYDOGE is down by 3% in the past 24 hours, dropping to $0.000000001631. It has also fallen by 34% in a week and by 47% in a month.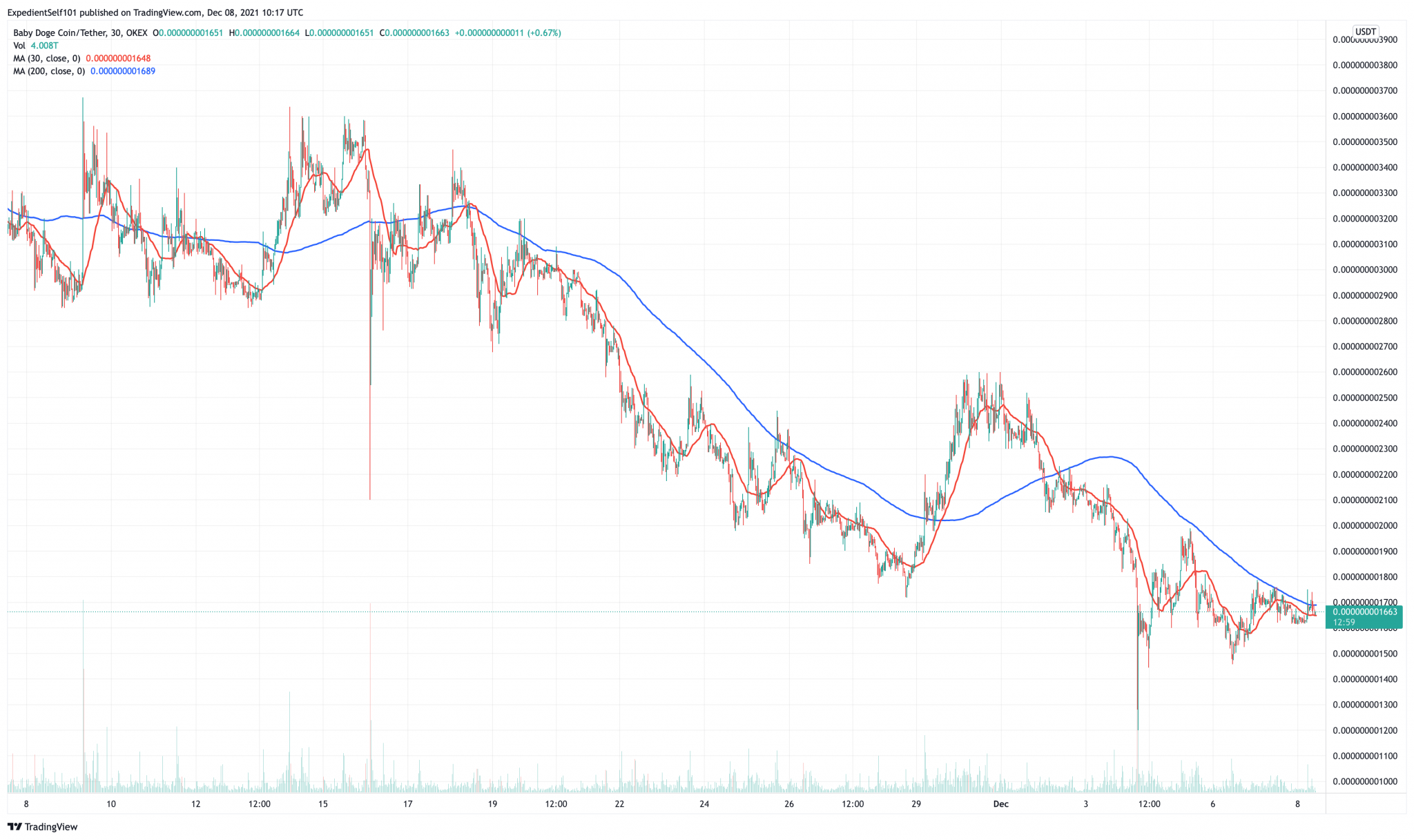 BABYDOGE's 30-day moving average suggests that it could be due for a breakout soon. This average has remained below the 200-day average for well over a week now, indicating that it's oversold rather than overbought.
Unlike the original dogecoin, BABYDOGE is a meme coin with a total supply cap. Because of this, it could actually end up being deflationary in the long-term, assuming steadily rising demand.
Compared to DOGE itself, BABYDOGE has a relatively small community. However, its Reddit page has gone from 1,000 members to 8,500 in just under six months, which is not bad going.
Capital at risk
Read more: