Key Takeaways
Bitcoin searches on Google have hit a 12-month all-time low.
The drop indicates a shift in attention to other crypto assets by retail investors. 
The market remains bullish as Bitcoin is expected to emerge from the recent price slump.
Bitcoin has hit a yearly all-time low in Google searches according to data from Google Trends, a service that tracks the most popular combinations Google users are searching for.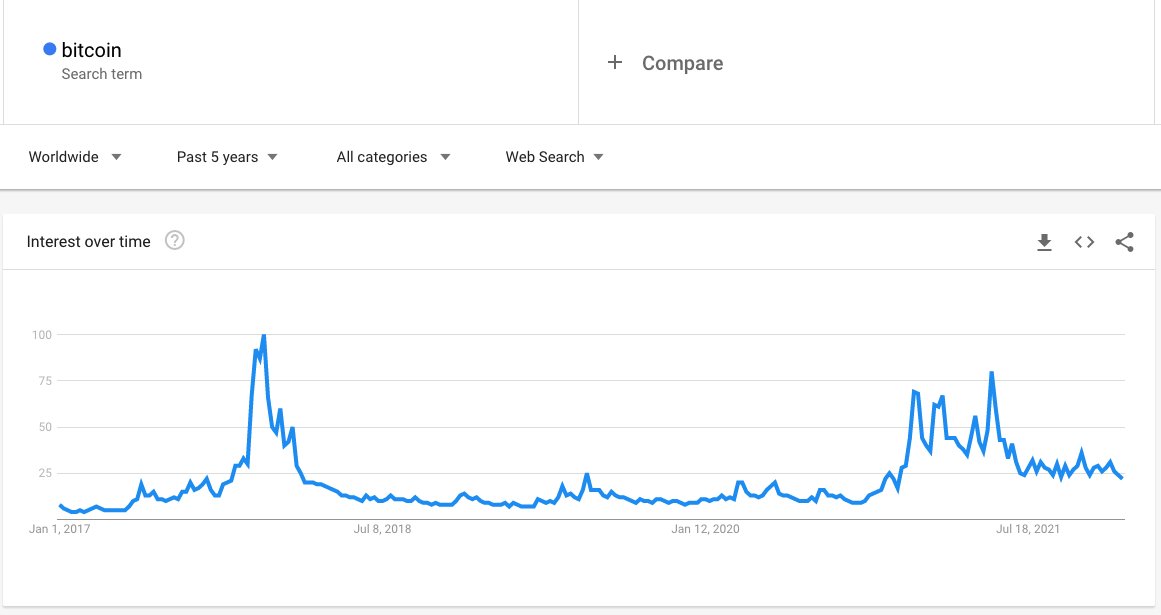 Bitcoin searches on the biggest search engine globally during 2021 reached a peak in May and since then have been declining, with intermittent spikes. However, December saw it reach its lowest in the year. Google Trends is returning a value of 27 for the worldwide search query of "Bitcoin" over the past 12 months. Google Trends scales their searches on a range of 0 to 100, with 100 representing the highest number of searches in a given period. 
What does the drop mean for Bitcoin?
The drop in search queries relating to Bitcoin is indicative that the general populace has lost interest in the pioneer cryptocurrency. This attention has likely landed in other crypto-related interests which have been increasing according to search data.
An indication of this is Google trends data that shows that searches for "NFTs" had surpassed searches for "Crypto" in recent times. NFTs have had a breakout year in the cryptocurrency market as they have generated a lot of interest and investment. In 2021, the digital collectibles generated over $9 billion in sales as investors bet millions on NFTs.
The drop in search interest for Bitcoin has also been noted as an indication that retail interest is at its lowest level due to the volatility of the market. CEO of Crypto Quant, Ki-Young Ju, pointed this out, stating that those who have been patient in times like these "have won the game." 
Factors that may have played a role in reduced interest in Bitcoin
Although the price of Bitcoin has had an impressive year, it has been outperformed by other cryptocurrencies. For instance, Ethereum, the second-largest cryptocurrency by market cap, outperformed Bitcoin by up to 4x year to date. 
Market analysts have pointed out that Bitcoin's dominance has been on a steady decline despite market spikes. Bitcoin performance is also stagnant when the increase in the number of active wallets is looked at. 
Regardless, market participants are not losing any sleep over it as they look to 2022 with optimism. The new year is expected to bring new capital into the Bitcoin market which will also make the price of Bitcoin and the Bitcoin network's performance kick off again.