The cryptocurrency market has fallen back a little after yesterday's rebound. At $2.159 trillion, its total value has slipped by 2.4% in the past 24 hours. Major coins such as bitcoin (BTC) and ethereum (ETH) have fallen by similar amounts over the same timeframe. However, various altcoins have risen over the past day or so, while those that have fallen are arguably due a big rally. As such, here's our list of 5 cryptocurrency to buy for price recovery this weekend.
5 Cryptocurrency to Buy for Price Recovery this Weekend
1. Dogecoin (DOGE)
DOGE is up by 13.5% in the past 24 hours, having risen to $0.197899. This represents a 23% jump in the past week and a 15% rise in the last 14 days.
DOGE's indicators show that it's in the midst of a strong upswing. Its 30-day moving average (in red above) had been declining for nearly of couple of months, before it began rising yesterday. It has now formed a golden cross with its 200-day average (in blue), suggesting a breakout. Similarly, its relative strength index (in purple) has jumped from just under 20 a few days ago to nearly 80 now.
This indicates very strong momentum, and there's a clear reason for this: Tesla. Tesla has just begun accepting payments in DOGE for its merchandise, after Elon Musk announced a few weeks ago that it would do so.
yo

it's happening!#dogecoin #doge4teslahttps://t.co/aYKGdYjJ5h pic.twitter.com/271DIW8oFJ

— Shibetoshi Nakamoto (@BillyM2k) January 14, 2022
This has sent the market into a mini-frenzy. And assuming that Tesla's experiment is successful, the use of DOGE for payments could become a more permanent fixture. This is why it's one of 5 cryptocurrency to buy for price recovery this weekend.
2. Secret (SCRT)
At $7.99, SCRT is up by 19.5% in the past 24 hours. It's also up by 30% in the past week and by 100% in the last 30 days. It is, however, 23% below the all-time high of $10.38 it set on October 28.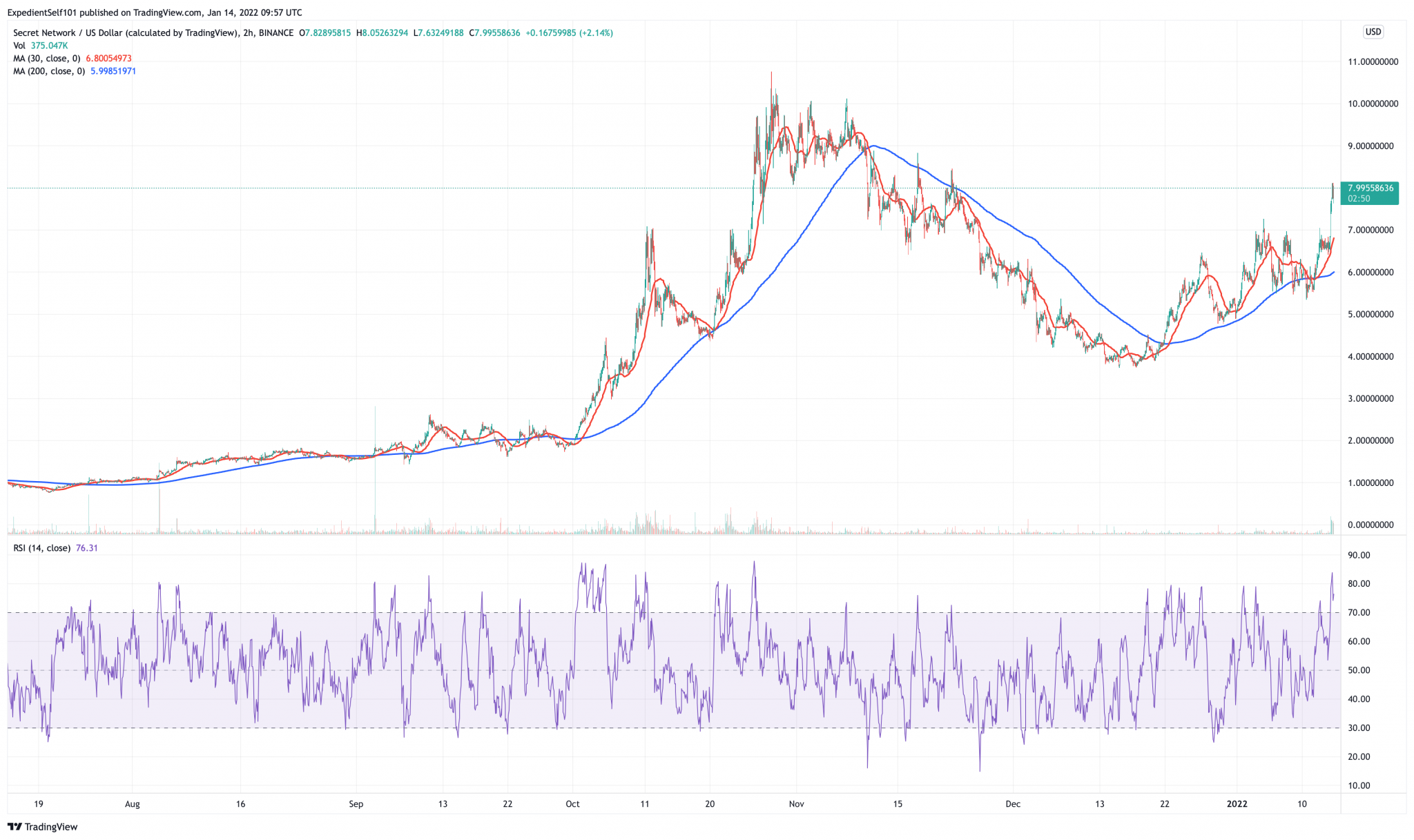 SCRT's technicals also show very strong momentum. Its RSI is just below 80, which is overbought territory. Its 30-day average also recently overtook its 200-day, suggesting a possible move to a new level.
Secret Network is a layer-one blockchain that enables smart contracts, but with enhanced privacy settings as default. It recently whetted the market's appetite for its native token by unveiling plans for the next phase of its development. Nickenamed Shockwave, this will see the platform greatly expand funding for its own development, while it will also grow its Secret Agent programme, which provides rewards to active community members.
NEW: Today we finally reveal Secret's next and most explosive growth phase: Shockwave ⚡🌊

Learn how we aim to solidify Secret Network as the privacy hub of Web3 in 2022, onboarding hundreds of projects and hundreds of thousands of users.

More soon 🤫https://t.co/TWgxJOdYft

— 𝕊ecret Network – Shockwave is Here ⚡🌊 (@SecretNetwork) January 12, 2022
One other bullish development for Secret is that it's currently witnessing a greater rate of growth for staking than on any other platform. This speaks to just how quickly it's growing.
$SCRT Staking going up more than ANY other chain.

Report via: @StakingRewards pic.twitter.com/Cyaec6NiR5

— Brendan | Whi𝕊perNode (@SCRTAgent000) January 14, 2022
3. Bitcoin (BTC)
BTC has fallen by 3% in the past 24 hours, to $42,653. It's also down by 1.4% in the past week and by 12% in the past month.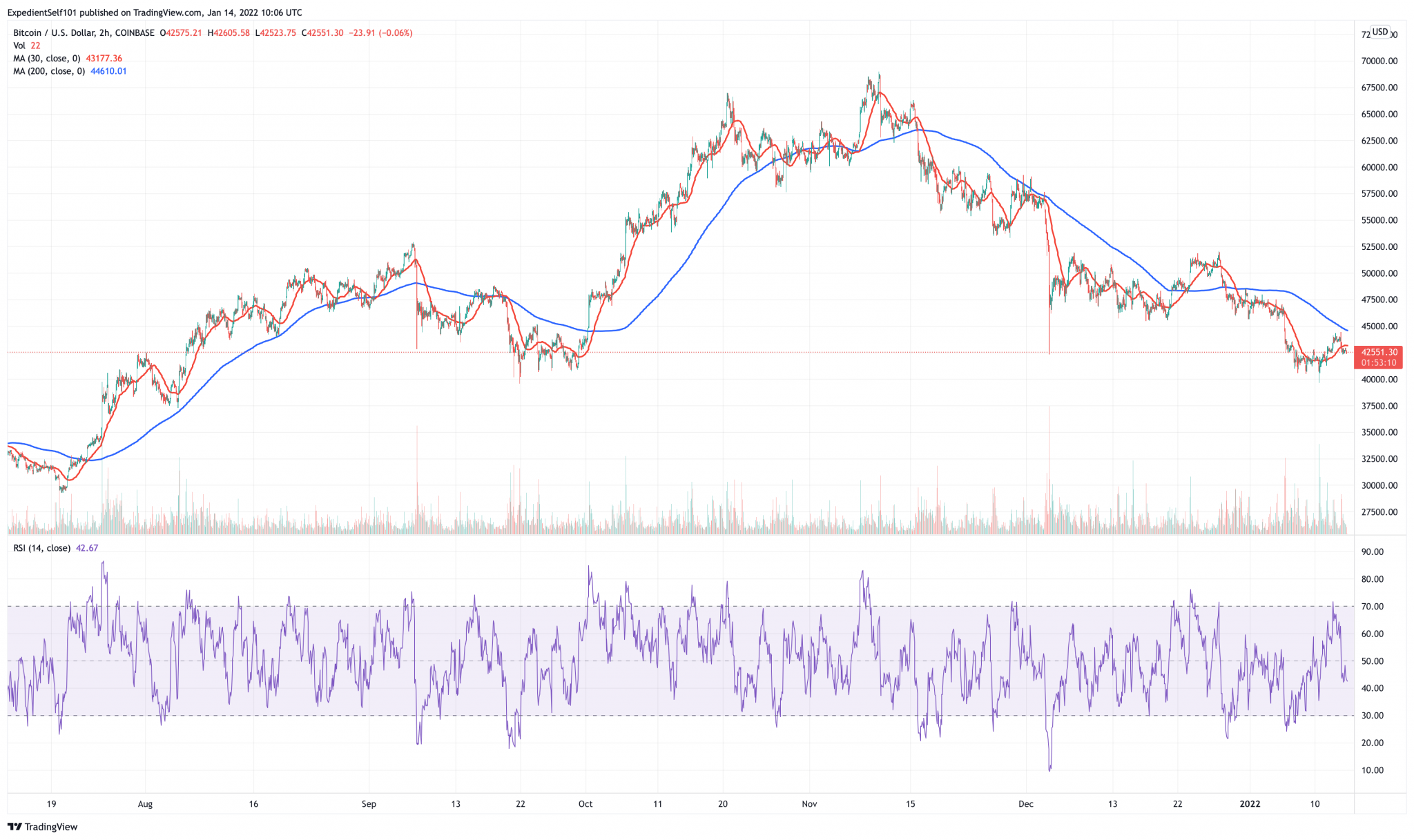 BTC's indicators reveal the ongoing weakness of its market right now. Its RSI is struggling below 50, while its 30-day average is hovering below its 200-day. However, given for how long it has been subsiding, you may be forgiven for supposing that it's due a rebound.
Whether such a rebound is imminent or not, BTC remains the most bankable cryptocurrency market. This is mostly because the market as a whole doesn't really rise without BTC rising first.
On top of this, BTC has been more successful in attracting wider interest from institutions than any other cryptocurrency. As such, if any crypto is going to attract the kind of renewed investment that buoys the market, it's going to be BTC. This is why it's one of 5 cryptocurrency to buy for price recovery.
4. Ethereum (ETH)
ETH is also down over the past 24 hours, having fallen by 3.4%, to $3,267. This represents a 4% drop in the past week and a 15% fall in the last 30 days.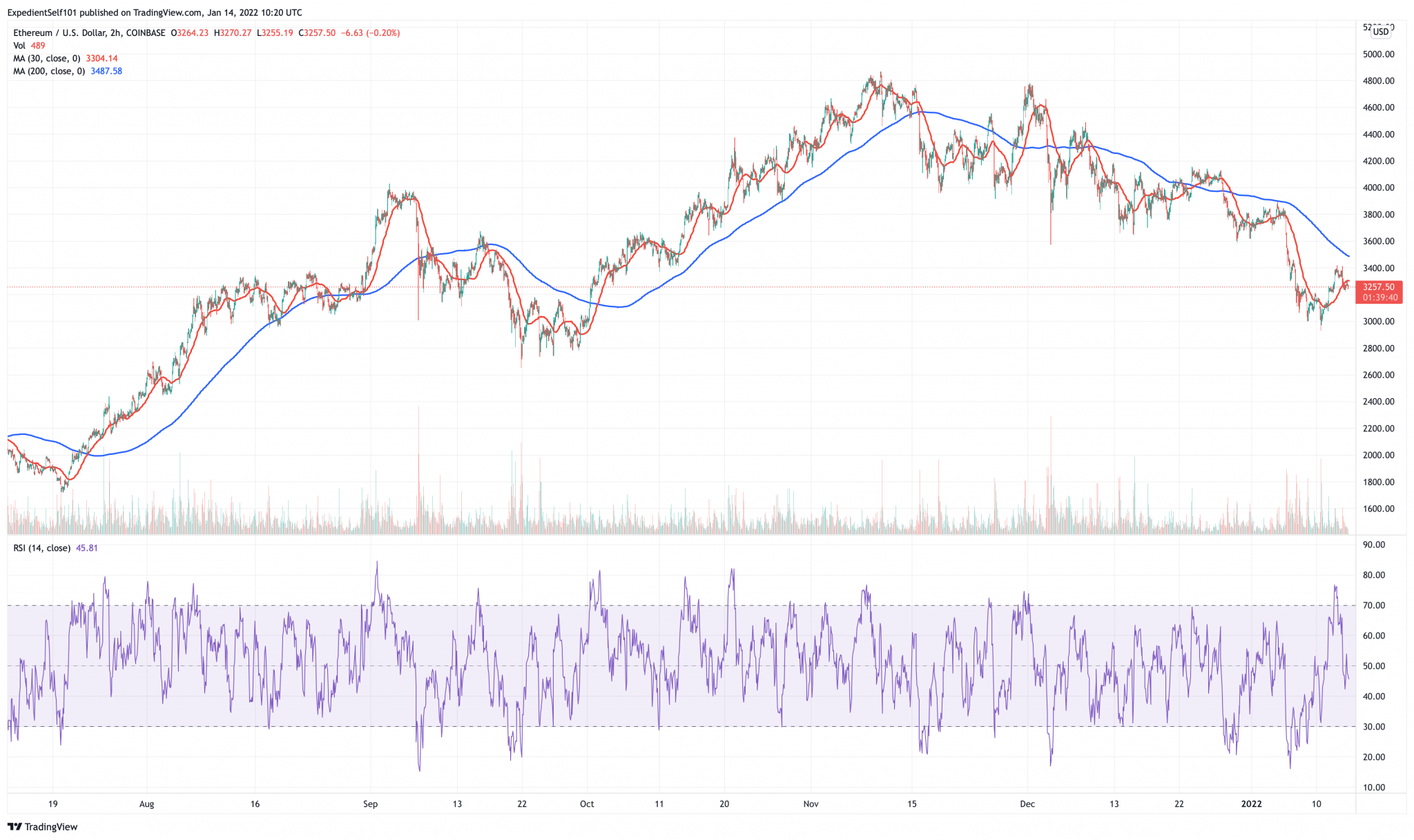 As with BTC, ETH's indicators have been deceptive and unpredictable over the past few weeks. Both the 30-day average and the RSI have shown signs of increase and recovery, only to flag again. However, given that this process of stagnation has continued for a well over a month, the cyclically minded might suppose that things could pick up very soon.
Regardless of timeframes, Ethereum remains one of the most fundamentally strong cryptocurrency platforms in the market. With its transition to proof-of-stake due at some point in "Q1/Q2", it will incite renewed interest sooner or later.
Even now, Ethereum accounts for over 60% of the DeFi market, with its total value locked in amounting to $147.83 billion. Given that the move to Ethereum 2.0 will improve its speed and scalability, this figure will likely increase substantially in the not-too distant future.
5. Near (NEAR)
At $19.28, NEAR has risen by 4.8% in the past 24 hours. Impressively, it's also up by 20% in the past week and by 107% in the past month. It set a new all-time high of $20.20 only a few hours ago.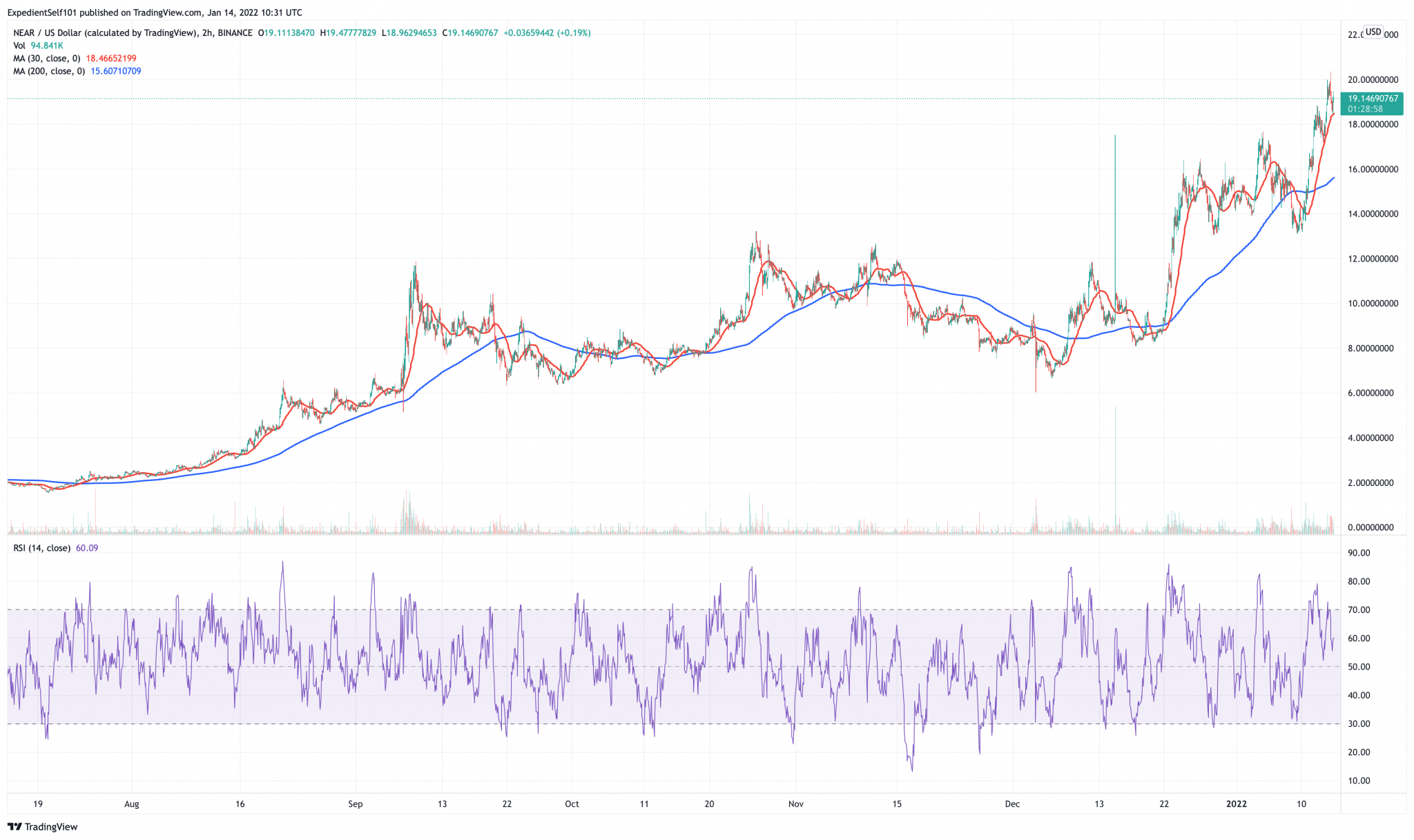 NEAR's indicators show that it's riding some very strong momentum right now, if the new all-time high didn't tell you that already.
Near is a proof-of-stake layer-one blockchain that aims to be climate neutral and to offer high scalability. It has seen rising adoption in the past few weeks, yet it's current rally is down largely to the fact that it has just raised $150m. Led by Three Arrows Capital and Andreessen Horowitz, the round will help it support the development and expansion of its ecosystem.
Even before the raise, Near's total value locked in had risen from as little as $1m in August to $162m today. This makes it one to watch, while it also makes it one of our 5 cryptocurrency to buy for price recovery this weekend.
Capital at risk
Read more: