The cryptocurrency market continues to have a disappointing January. At $$2.07 trillion, its total cap has dropped by around 1.7% in the past 24 hours. This includes coins such as ethereum (ETH), cardano (ADA) and solana (SOL), which have slipped by 1.9%, 6.9% and 1.6%, respectively. However, a number of smaller altcoins have done well over the past day and week, including coins under $1. As such, here's our list of the 5 best penny cryptocurrency to buy right now.
5 Best Penny Cryptocurrency to Buy
1. ECOMI (OMI)
OMI is up by 5% in the past 24 hours, rising to $0.00771619. This represents a 21% jump in the last seven days and a 23% rise in the last 30.
OMI's 30-day moving (in red above) continues to rise above its 200-day average (in blue). This indicates that it's on an uptrend and may be moving to a higher stable level. Likewise, its relative strength index (in purple) peaked at 80 yesterday, revealing very strong momentum. However, it has since calmed to 50, suggesting that its market isn't being overcooked.
OMI is the native token of ECOMI, a marketplace for digital collectibles. It has been rallying in fits and spurts ever since December, when it commenced the next phase of its migration over to Immutable, a layer-two scaling solution for Ethereum.
Exciting news! Phase 2 of the Immutable migration continues today (14 Dec) from 6PM PT 🥳

During Phase 2, we are re-minting all @veve_official NFTs on Ethereum Layer 2 via @Immutable!

Migration is expected to take 3-10 hrs. We will keep you updated on its completion. [THREAD]

— ECOMI ⭕️ (@ecomi_) December 14, 2021
This migration will make the platform more scalable and efficient, enabling it to serve more users. And in turn, this should increase demand for OMI, with the coin still 42.5% below its all-time high of $0.01343572. This was set back in March, with OMI having plenty of room for further rises.
2. Theta Fuel (TFUEL)
At $0.199619, TFUEL has risen by 15% in a day. Its rises over the past fortnight and month are more modest, however, suggesting that the coin's rally is only just getting started.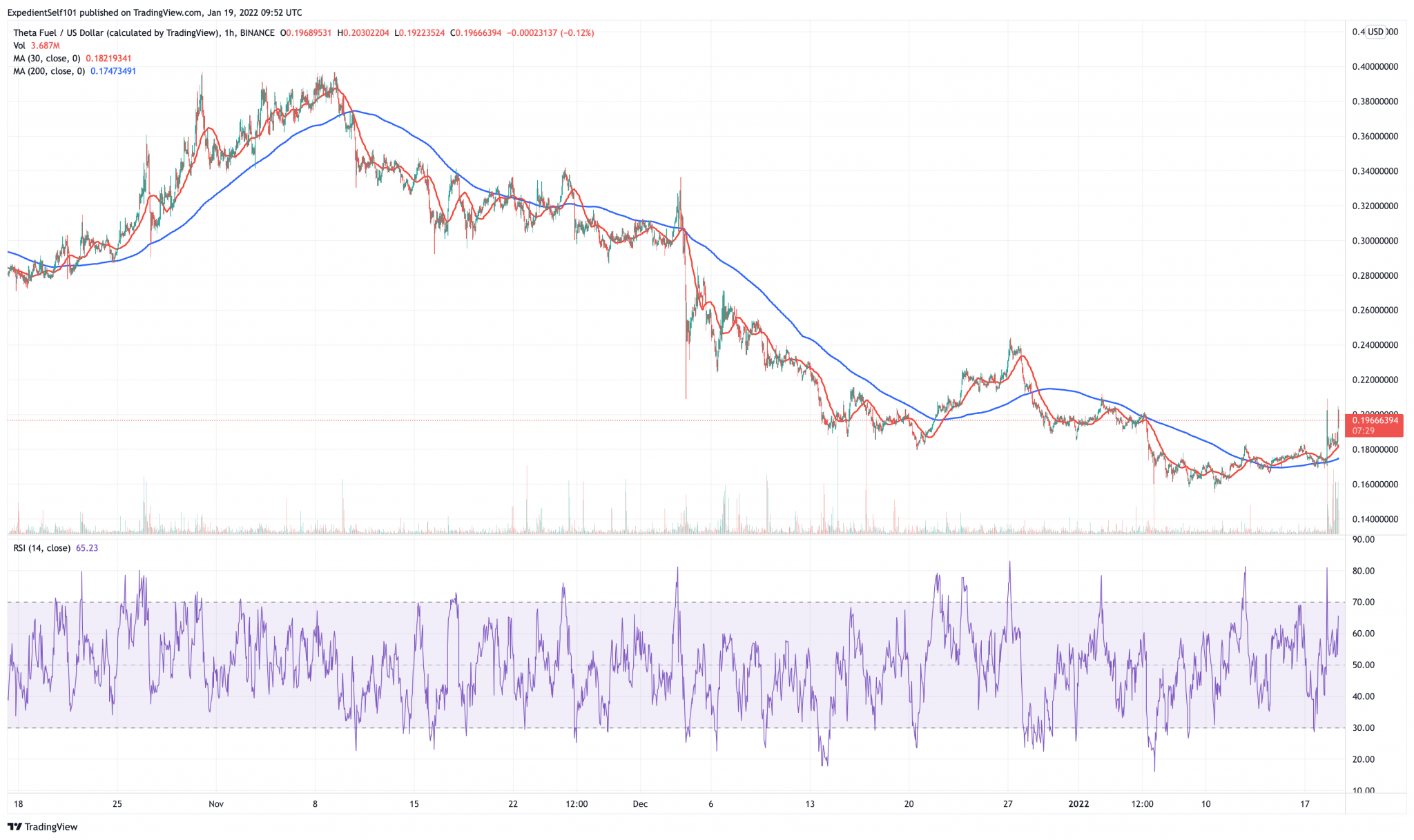 TFUEL's chart and indicators reinforce this suspicion that its rally is only just beginning. Its 30-day moving average had been sinking since November, but has just risen above its 200-day average. Likewise, its RSI has jumped from 30 (meaning undersold) to 65 in a matter of hours.
Theta is a blockchain-based video-streaming platform. It has begun rallying for a couple of reasons. Firstly, it has welcomed a number of important collaborations and launch, with its link-up with the Curate NFT marketplace being the most recent.
The first part of the Theta x Curate collaboration is complete with THETA/TFUEL payments live on Curate marketplace! Next up is Theta NFTs tradable cross-chain in the Curate app – check it out in iOS/Android or at https://t.co/1TTgrKsnGb https://t.co/REnaC3en8i

— Theta Network (@Theta_Network) January 18, 2022
Secondly, it also has a big launch of its own on the horizon. On February 1, its much-anticipated ThetaDrop NTF marketplace will launch, with an airdrop taking place to coincide with the release. Investors can participate by staking TFUEL, with the supply of new TDROP governance tokens being distributed gradually over time.
In other words, demand for TFUEL will increase as we approach the launch, with people wanting to acquire TFUEL in order to stake it. This is why the coin is one of our 5 best penny cryptocurrency to buy.
3. Ripple (XRP)
XRP's price is currently $0.733157, having fallen by 2% in the past 24 hours. It has also fallen by 5% in the past week and by 12% in the past month.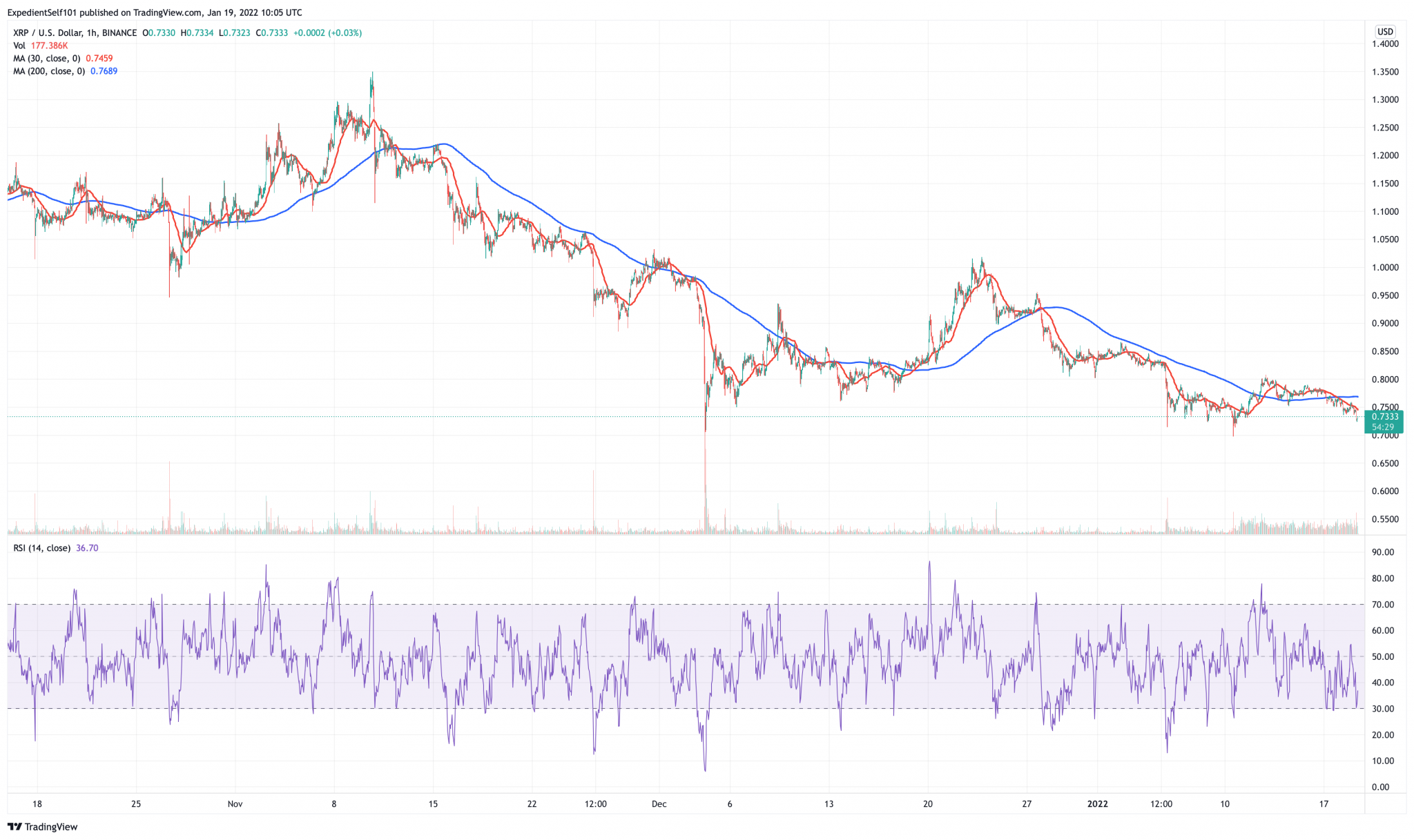 XRP has suffered a long decline. Its price and averages have been steadily slipping since November, while its RSI has enjoyed few periods where it reached 70 or higher.
However, for traders interested in buying coins on the cheap, XRP may be one of the best bets on the market. Combined with the ongoing market-wide downturn, its case with the SEC means that it remains unloved. Also, recent developments with this case means that we won't see any kind of decision for another few months.
Ripple v. SEC: discovery pushed back ANOTHER month.

Ugh.

Will discuss in video tomorrow! I just need to finish my own depositions today first (which didn't have to be postponed because of this invention called "Zoom" video conferencing.) https://t.co/uu1wY6ONnu

— Jeremy Hogan (@attorneyjeremy1) January 12, 2022
Despite further delays, crypto-specialised lawyers believe that Ripple has a strong case against the SEC. So when the time eventually does come, there's a good chance Ripple will gain a favourable outcome. By extension, expect XRP to rise substantially.
This Tweet wouldn't get out of my head.

So, I had to read the Telegram case again and @JohnEDeaton1 has the only reasonable conclusion:

In preparing this lawsuit back in late 2020, the SEC DIDN'T BELIEVE THAT XRP WAS STILL A SECURITY (or didn't believe it could prove it). 1/2 https://t.co/n0ZAAjrIEY pic.twitter.com/QqgU66oLe9

— Jeremy Hogan (@attorneyjeremy1) January 18, 2022
4. Dogecoin (DOGE)
At $0.161787, DOGE has fallen by 3% in the past 24 hours. On the other hand, it's up by 5.3% in the past week, while down by 4.8% in the last 30 days.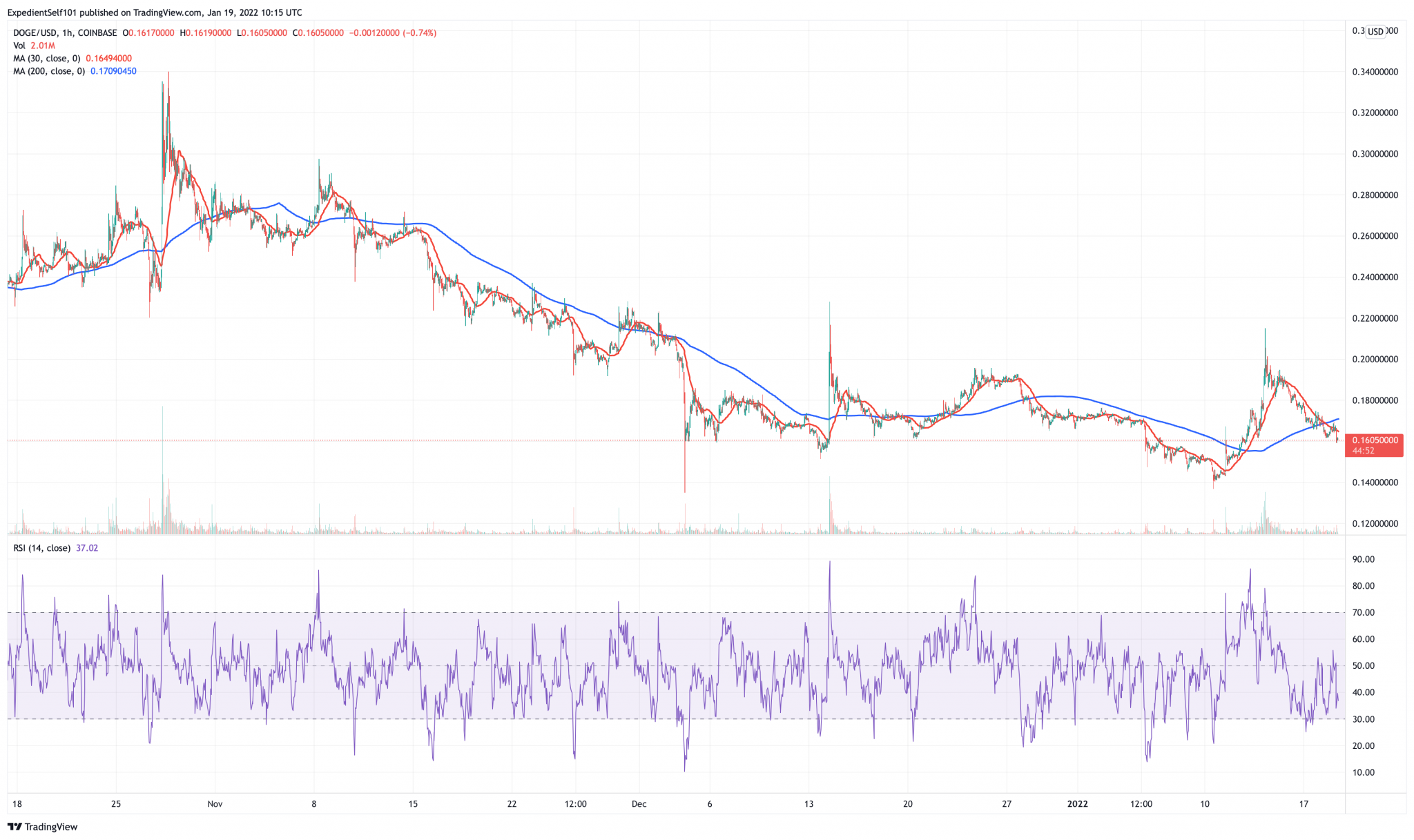 DOGE's technicals largely reflect the bear market we're currently experiencing, although both its 30-day average and RSI displayed a noticeable spike a couple of days ago.
This was caused by Tesla launching DOGE payments for a selection of its merchandise. Such merchandise could be bought only with DOGE, causing the famous meme coin to rise considerably.
You can now purchase select items on Tesla Shop in Dogecoin…exclusively in Dogecoin!https://t.co/I4jSgwJZ5O

— Taylor Robinette (@twrobinette) January 14, 2022
Of course, the ensuing rally has since subsided. The point is, however, that you can never count DOGE out from experiencing similar rallies in the not-too distant future, especially with Musk and Tesla supporting it. This is why it's one of the 5 best penny cryptocurrency to buy.
5. Stellar (XLM)
XLM is down by 3% in the past 24 hours, having dropped to $0.247828. It's also down by 6% in the past week and by 11.5% in the past fortnight.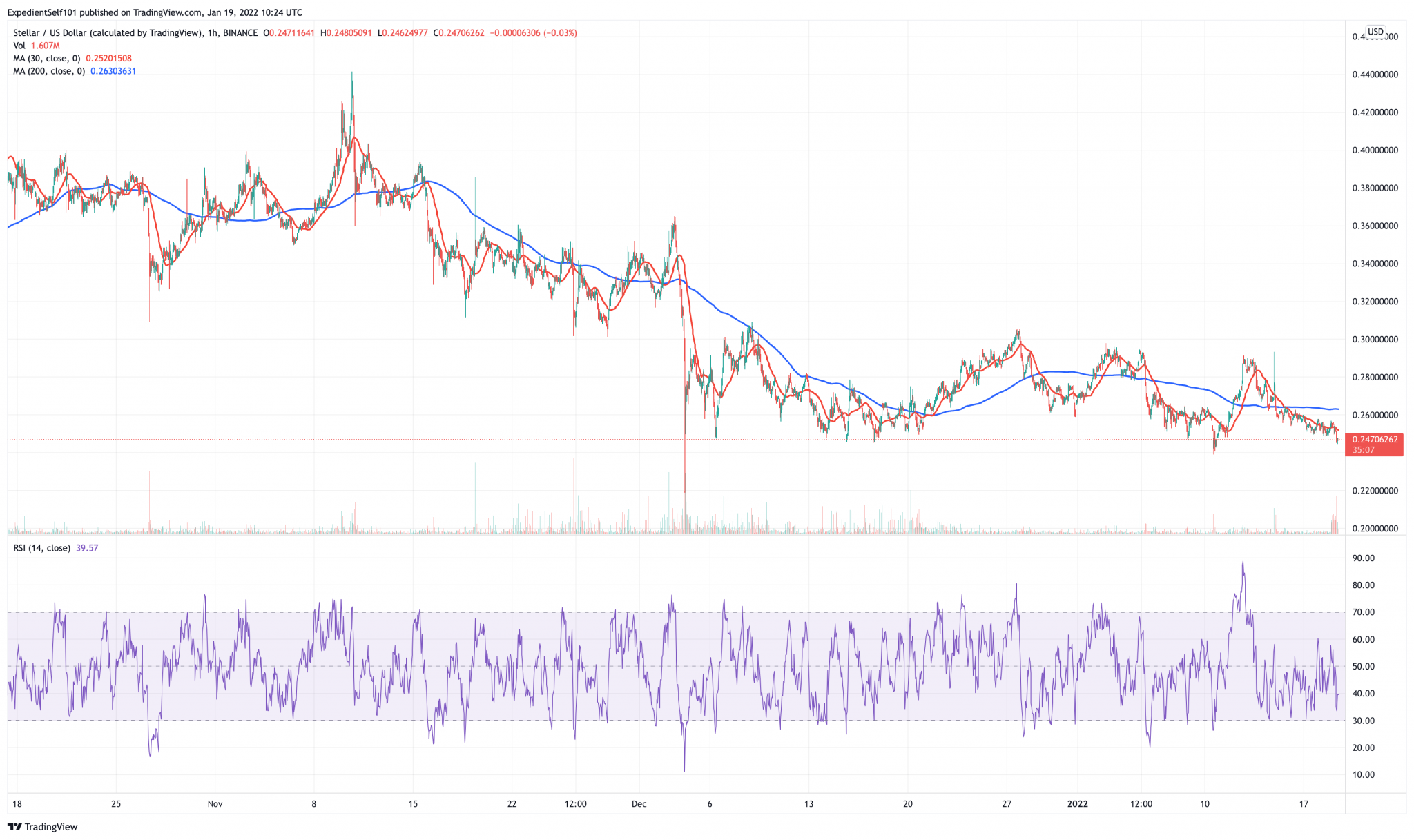 XLM's technicals are almost entirely reflective of the wider market, suggesting that traders probably shouldn't expect it to pick up until the market itself does.
However, there are fundamental reasons to be optimistic about XLM. Its native platform, Stellar, continues to steadily build out its functionality and capabilities. For instance, it recently revealed its own layer-two scaling solution, Starlight, which will make its blockchain even more scalable.
Starlight is a layer 2 payment channel protocol that supports efficient, high-throughput payments. Check out the blog for info on how to experiment with it, submit feedback, and more. https://t.co/svI3lZaDgo

— Stellar (@StellarOrg) January 5, 2022
It also rolled out a new type of account this month. Called Muxed, these new accounts allow services to map a single Stellar address to multiple users, something which will make Stellar more user-friendly and efficient. Such upgrades may be relatively modest, but they show why XLM is one of the 5 best penny cryptocurrency to buy right now.
Capital at risk
Read more: