The cryptocurrency market continues to recover modestly after a bad couple of weeks. At $1.79 trillion, its total cap has increased by 3.9% in the past 24 hours. Major coins such as bitcoin (BTC) and ethereum (ETH) have risen along with the market, jumping by 4% apiece. Meanwhile, a range of smaller altcoins have jumped even higher, largely because they'd fallen so dramatically in previous days. This article compiles a mix of such tokens and more established coins into a list of the 5 best cryptocurrency for a price rebound.
5 Best Cryptocurrency for a Price Rebound
1. Loopring (LRC)
The market downturn had hit LRC hard. Down by 11% in a week and by 56% in a month, the layer-two token is also down by 72% compared to its November all-time high of $3.75. However, it's up by 17% in the past 24 hours, indicating how hard falls tend to signal strong rebounds (at least for fundamentally sound coins).
LRC's technical indicators make it apparent that it may have begun a breakout. Its relative strength index (in purple above) has jumped from under to 20 to 60 in under two days. This signals strong momentum, as does LRC's 30-day moving average (in red). This has just formed a golden cross with its 200-day average (in blue).
Prior to the market's recent downturn, Loopring was one of the hottest layer-two scaling solutions for Ethereum. It still is, in fact, with its use of zero-knowledge rollups enabling it to offer very low fees in comparison to other layer-two protocols.
1/85th the cost, same great Ethereum taste

L2 swaps hit different pic.twitter.com/BQoWh09OWR

— Adam Browman (@A_Browman) November 8, 2021
Despite falling more than 70% from its record high, it has now passed $4 billion in total volumes traded, indicating just how strongly its network has grown. It had been at only $3 billion as recently as November 23.
Over $4 billion has been traded on Loopring L2💥

All gas-free + secured by Ethereum L1💙

Come try it yourself👇
➡️https://t.co/MUxSeUlBgr pic.twitter.com/6wAABHznsu

— Loopring (@loopringorg) January 10, 2022
So given that it's still 72% down on its ATH, expect LRC to continue recovering in the short- and medium-term. This is why it's one of our 5 best cryptocurrency for a price rebound.
2. Bitcoin (BTC)
At $37,800, BTC has risen by 4% in the past 24 hours. It is, however, still down by 11% in the past week and by 25% in the past month.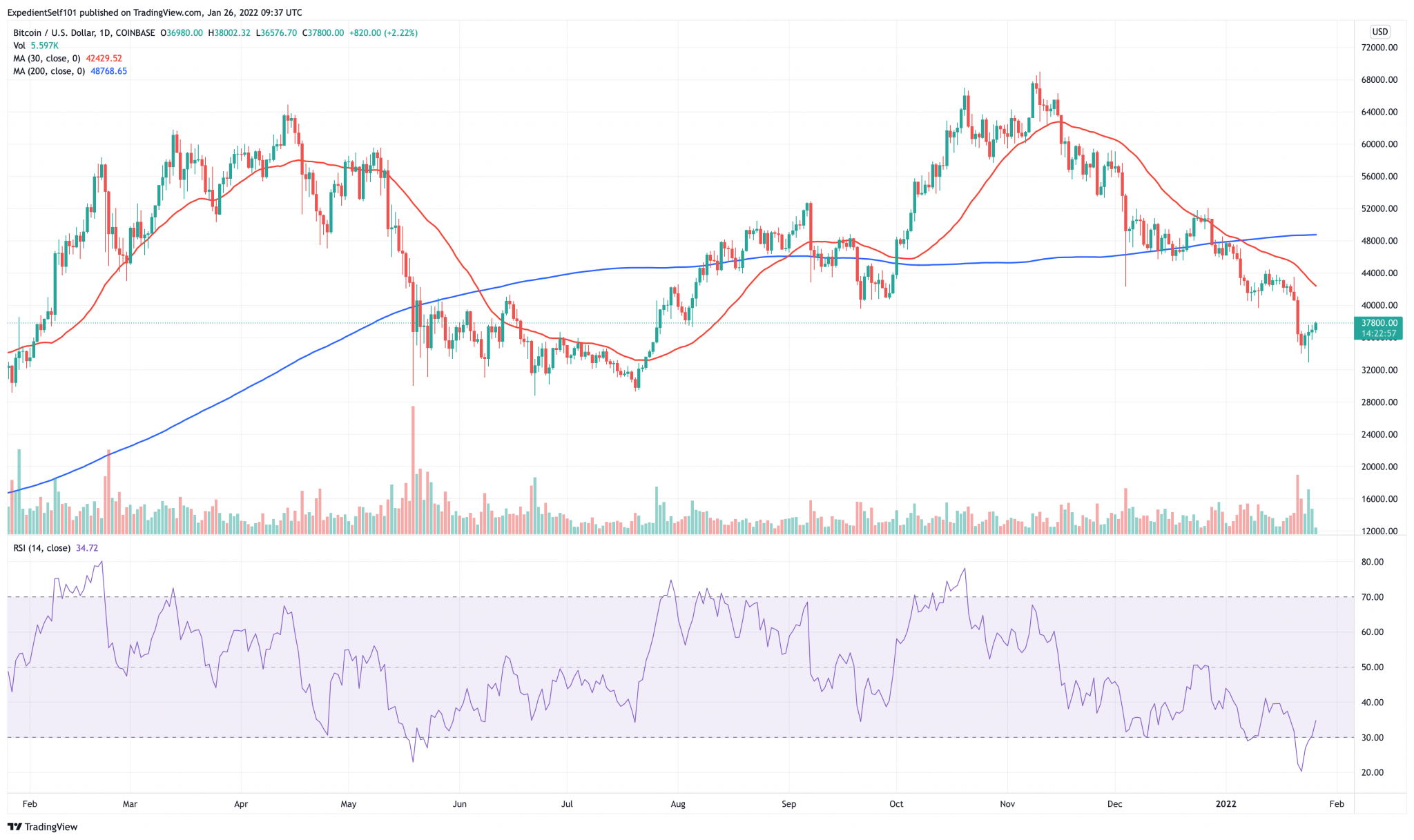 BTC's one-year chart shows that it has begun rising up from a bottom. Its RSI hit 20 a few days, indicating that it was significantly oversold. Its 30-day average is still sinking relative to its 200-day though, suggesting that it still hasn't quite reached a bottom.
That said, BTC will reach its bottom, and when it does it will be one of the key cryptocurrencies to watch for a rebound. It has always led rebounds and new bull markets. Apart from Tether, it accounts for a much greater 24-hour trading volume than any other cryptocurrency, indicating the wider demand for it. It has also witnessed more outside interest than other cryptos, including from banks, corporations and even nation states.
It's also worth pointing out that BTC has been better at losing less of its value than nearly every other coin. In other words, it's one of the safer bets to make in the event that this downturn still continues for a while yet.
The current % of price decline in assets since their top:$BTC -50%$ETH -52%$ATOM -39%$FTM -49%$LUNA -49%$BNB -50%$NEAR -51%$MATIC -52%$FTT -63%$AVAX -64%$SOL -66%$DOT -70%$ADA -70%$AXS -71%$XRP -72%$LINK -73%$SHIB -80%$DOGE -83%

— Rager 📈 (@Rager) January 22, 2022
3. Ethereum (ETH)
ETH is up to $2,514, a rise of nearly 4%. Like most other coins it remains down over the past seven days (by 21%) and over the past month (by 38%).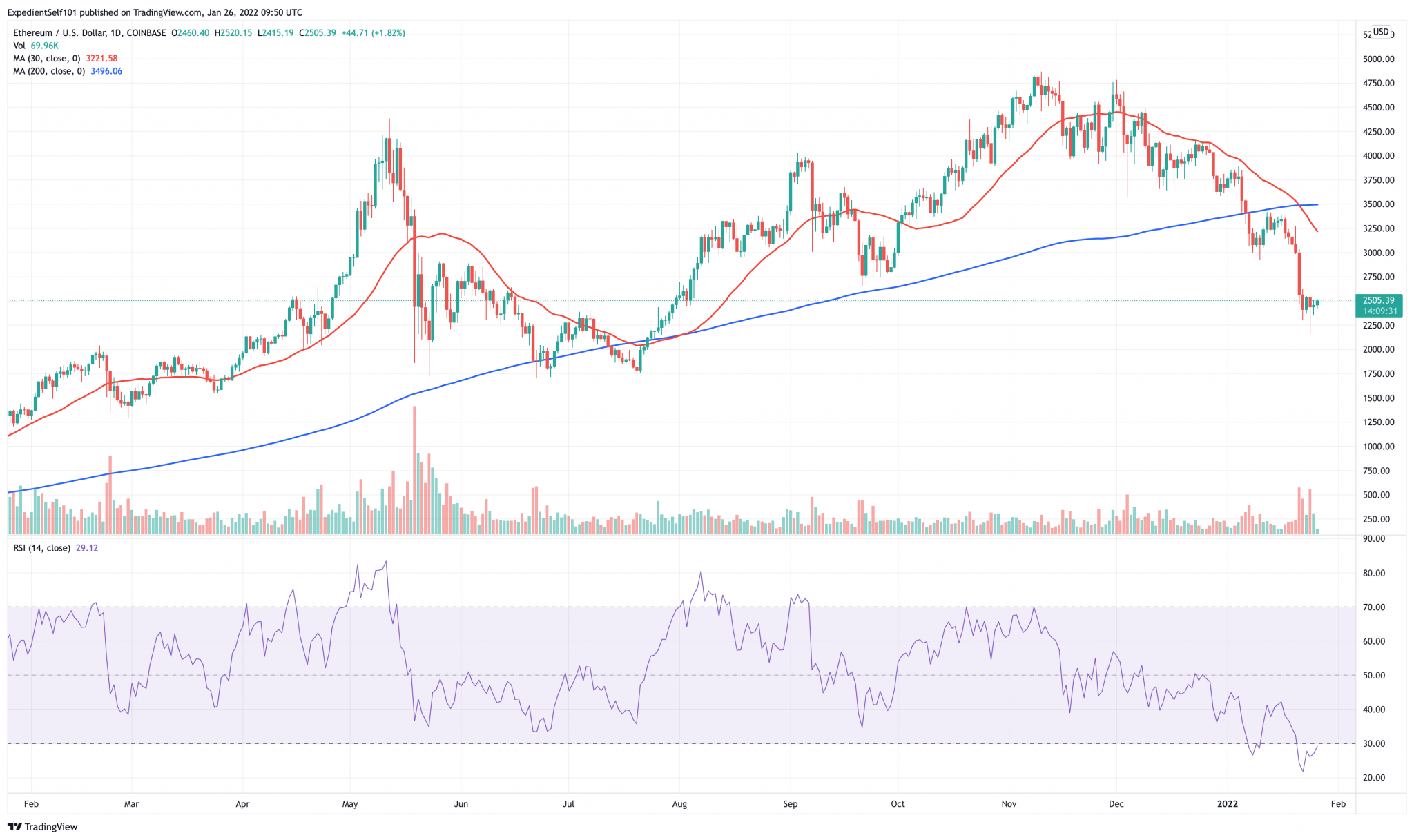 ETH's RSI has hit nearly rock bottom in recent days. On the other hand, its 30-day average still looks like it could sink further, so it remains uncertain as to whether we have a sustainable recovery on our hands today.
Still, ETH is another coin with very strong fundamentals, with Ethereum accounting for 68% of the DeFi ecosystem. Ethereum also continues to work towards its transition to a proof-of-stake consensus mechanism. This will make the network faster and more scalable, while also helping to keep transaction fees down.
At the same time, staking will serve to decrease the circulating supply of ETH. This will mean that, all other things being equal, ETH should witness spikes in demand. And also spikes in price. This is why, even though Ethereum 2.0 (or Ethereum's "consensus layer," as it's now called) is some way off, ETH is one of our 5 cryptocurrency for a price rebound.
4. Ripple (XRP)
XRP is up by 4% in the past 24 hours, to $0.625552. It's down by 17% in the past 24 hours and by 32% in the past month.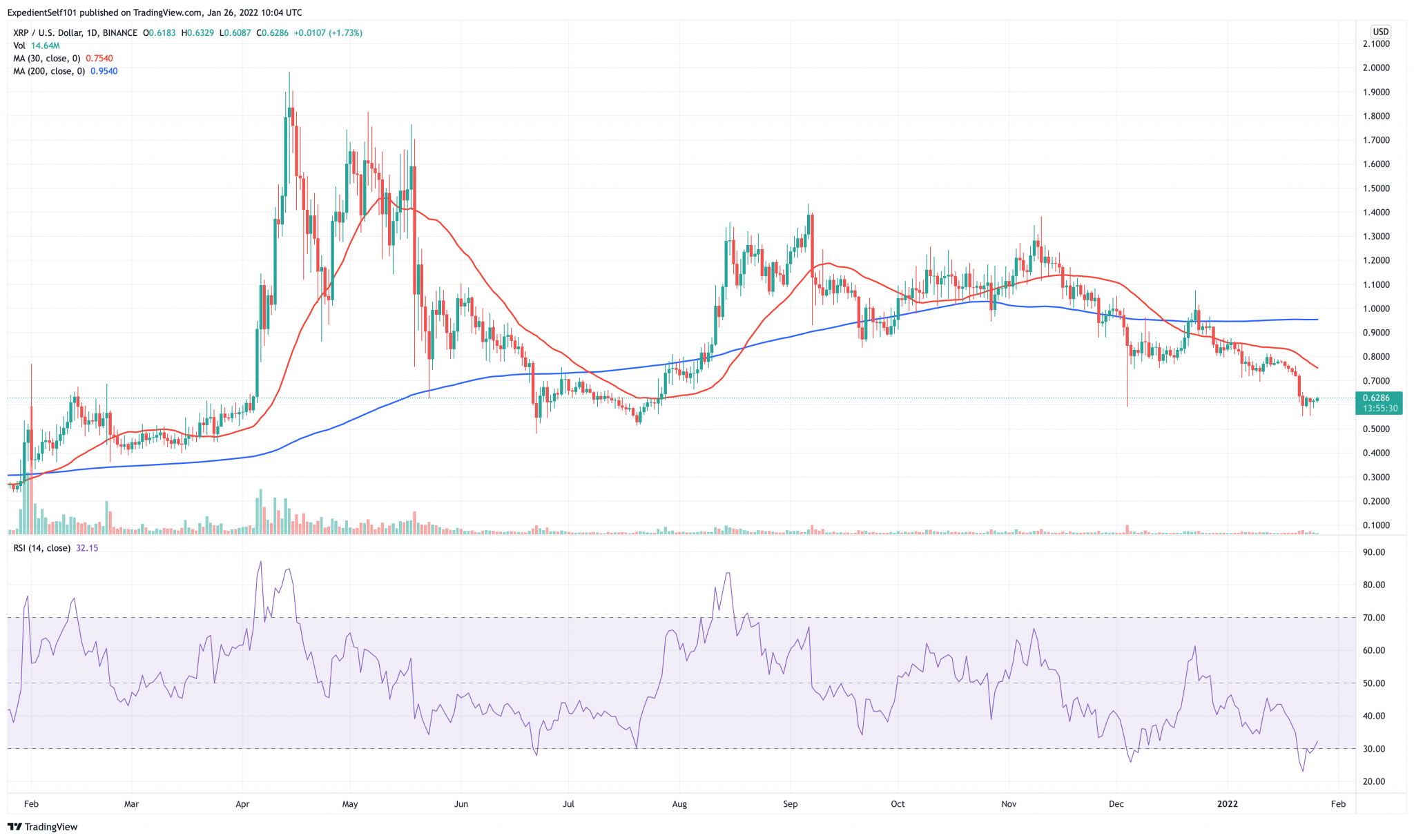 XRP is also 81% down on its all-time high of $3.40, set way back in January 2018. It was one of a small handful of coins that failed to set a new ATH during last year's bull market. And the reason is clear: Ripple's legal battle with the SEC.
While this case did significantly dent XRP's price, Ripple remains confident that it will secure a favourable outcome. Most notably, it recently bought back its own shares at a valuation of $15bn, which it had sold in its 2019 Series C round. Some observers believe this is a sign that Ripple thinks it will be able to conduct an IPO soon.
Excited to announce @Ripple bought back our Series C (Dec 2019) shares at a $15B valuation! 1/4

— Brad Garlinghouse (@bgarlinghouse) January 26, 2022
On top of this, the wider cryptocurrency community is becoming increasingly convinced that Ripple will gain a good settlement with the SEC. Evidence continues to emerge which makes its case look stronger and the SEC's look weaker. This includes a video in which former SEC chair Jay Clayton appears to describe the view that ethereum isn't a security as SEC policy.
The SEC case against Ripple is over.

— Ryan Selkis 📖 🖊🔑 (@twobitidiot) January 25, 2022
However, despite Ripple's prospects looking good, it's now likely that the discovery period for the case won't end until March at the earliest. This means that anyone waiting for the big rebound will have to wait a little more.
There's no silver lining in this ruling granting the SEC extensions of time – even if the order on the Motion for Reconsideration is eventually upheld.

Now discovery won't conclude until March at the earliest.

This case is like watching Yoda's death scene over and over and over https://t.co/D2irtYZYj2 pic.twitter.com/wWvMu55E6e

— Jeremy Hogan (@attorneyjeremy1) January 24, 2022
5. The Sandbox (SAND)
SAND is up by 6.5% in the past 24 hours, having reached $3.26. It's also down by 27% in the past week and by 52% in the past month.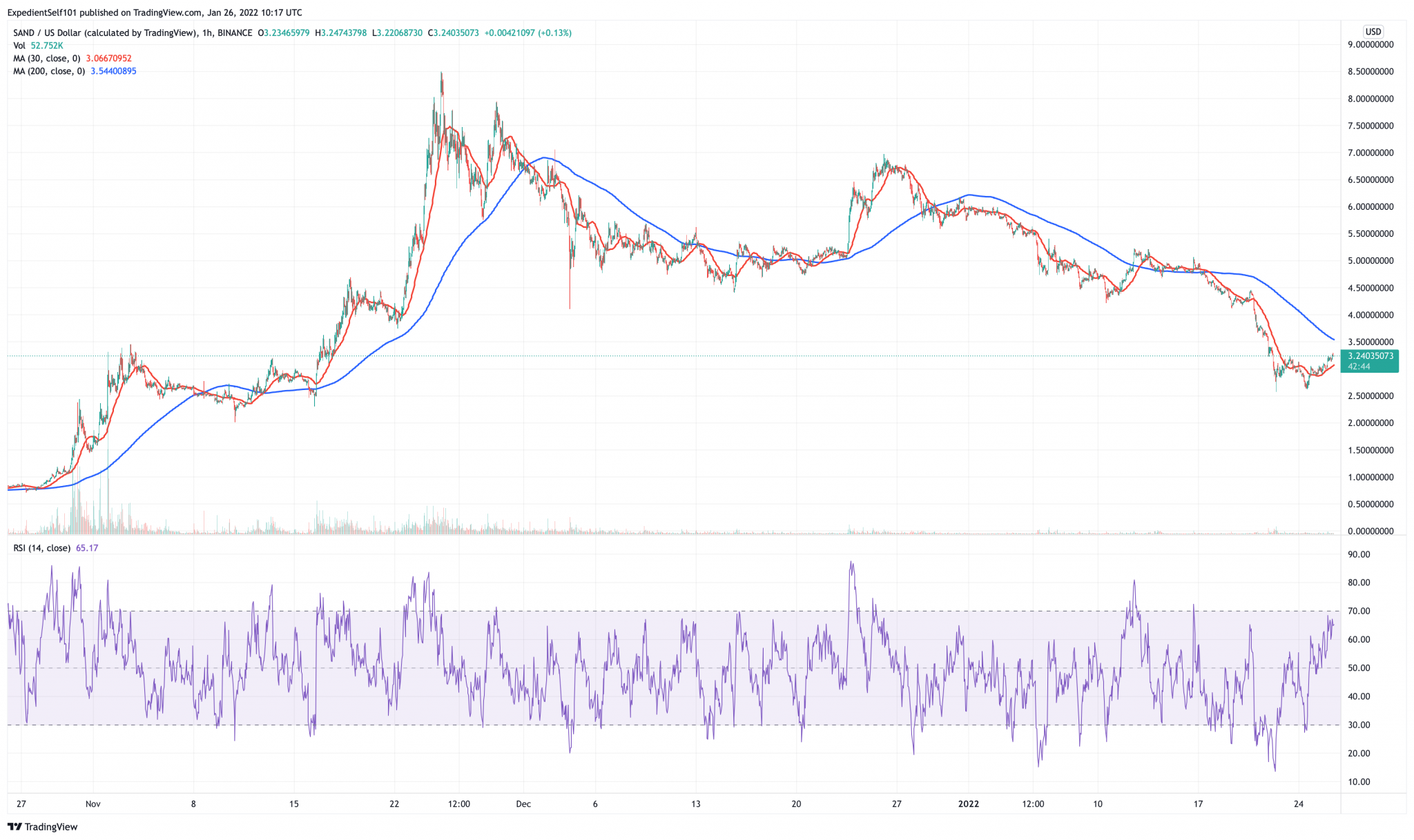 SAND's indicators suggest that it may have begun a breakout. Of course, with the market so unstable right now, don't be surprised if it falls back down again in the next few days.
Nonetheless, SAND has very good medium- and long-term prospects. The Sandbox, its native platform, is one of the most successful NFT-based metaverse blockchains in the sector. It had a strong 2021, in which it sold one plot of land for $4.3 million at the start of December. It also turned over $86 million in land sales in the last week of November alone, more than any other metaverse-related platform.
Meanwhile, its parent company, Animoca Brands, raised a whopping $358 million a week ago. This comes in addition to the $93 million it raised from major VC fund SoftBank at the beginning of November. With this kind of capital, it has the means to grow even further, which is why it's one of our 5 best cryptocurrency for a price rebound.
Capital at risk
Read more: