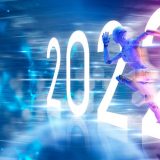 E-Crypto News' update provides the latest articles on technology and cryptocurrencies.
e-cryptonews.com
Continue reading Top 6 Metaverse Crypto Options To Invest In 2022 at E-Crypto News.
While the crypto economy shed billions in value this week, 18 different digital assets have accrued double-digit gains during the last week. At the same time, the top two leading crypto assets by market capitalization, bitcoin and ethereum, have lost between 2.8% to 6.2% in value in seven days. 18 Crypto Assets See Values Increase […]
Enjin, a decentralized platform for non-fungible tokens (NFTs), today announced over 70 ecosystem partners have committed to building the decentralized Metaverse on Efinity, a decentralized, self-governed, and self-sustaining blockchain for NFTs, featuring full interoperability with other networks via the Polkadot Paratoken standard being developed by Enjin as part of the Efinity stack. In a competitive first […]
The post NFT network Enjin grows Efinity platform with 70+ partners amidst Polkadot parachain bid appeared first on CryptoNinjas.